UPCOMING EVENTS
THANKSGIVING 2020! Our menu will be posted on our Facebook Page under PHOTOS
***Call in and ask us about our FAMILY 4 PACK TO-GO MEALS (will include 4 thanksgiving dinner meals). Must be pre-ordered and pre-paid by Friday November 20th,2020.***
*All reservations require the entire group to be present at the time of reservation. If your whole party is not here within 10 minutes of your reserved time, you reservation MAY BE FORFEITED. 
*Reservations are limited to TWO HOURS, so that we may serve everyone that wants to enjoy Thanksgiving here.  Your tardiness does not extend your time. 
By booking a reservation, you agree to these terms
Any reservations for groups of 8 or more will require a credit card deposit of $25-$50 depending on the size of your group.  If you do not cancel your reservation BY November 24, 2020, your credit card will be charged.  By making a reservation and providing the credit card information, you agree to these terms.
Pricing will stay the same as last year.  We will only offer a limited amount of items from our regular menu (steaks) and sides will be limited.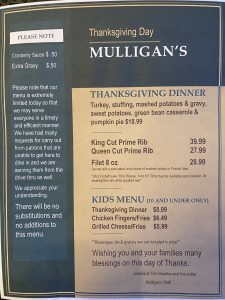 SUNDAY BREAKFAST BUFFET
BUFFET IS TEMPORARILY CLOSED
Join us Sunday mornings 10am – 1pm for our Breakfast Buffet. Reservations are accepted, but not required.
Omelettes made to order, scrambled eggs, bacon, sausage, potatoes, corned beef hash, oatmeal, fruit, french toast, waffles, and assorted desserts.
Items subject to change without notice
*Prices do not include beverages, tax or gratuity.
Book your event with Mulligan's Restaurant and Pub in Canton, Ohio
Thanksgiving Dinner 2019
If you missed us last year, you do not want to miss us this year! We will be serving FRESH, HOT and DELICIOUS meals. We will be doing spatchcocked turkeys again this year! Our Thanksgiving meal will consist of turkey, stuffing, mashed potatoes with gravy, sweet potatoes, green bean casserole and a piece of pumpkin pie.  $18.99
WE WILL have some steaks available that will be served with a salad and mashed potatoes or a Thanksgiving side ONLY.
CARRY OUT:
**NEW THIS YEAR** We will be offering individual Thanksgiving meals to go AS WELL AS a family 4 pack dinner for $68, which will only be offered to go and orders must be placed by November 20.
We are excited to serve you and your guests! We are currently accepting reservations!
Any groups of 8 or more are required to give a deposit of $35 to hold the reservation.
IF you don't show up to your reservation, you will be charged the $35.  You may call at any time BEFORE November 26, 2019 to cancel the reservation and you will NOT be charged.
Your entire party must be here within 10 minutes of your reserved time or you may forfeit your reservation.  Tardiness does NOT extend the time of your reservation or your 2 hour limit.